Mississippi State unveiled its all-white threads for today's game against Texas A&M. The Bulldogs' white-out is inspired by the 2000 Independence Bowl, which pit MSU against A&M in a snow-covered contest dubbed, fittingly, the Snow Bowl.
The Bulldogs' white uniforms have a decided Storm Trooper feel to them, and the dog head plastered on the helmet is reminiscent of the Combat Pro uniforms Boise State has donned with an oversized Bronco head. Mississippi State athletics is even donning a #SnowBowl in the end zone, as college sports' collective infatuation with social media goes to another level.
Not content to let MSU steal the fashion show, Texas A&M is wearing alternates today. Brett McMurphy of ESPN tweeted the Aggies' helmet Saturday morning: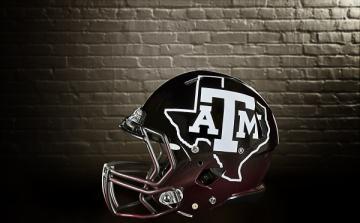 And the Aggies will counter the white with their own black (via SBNation):